Club X Features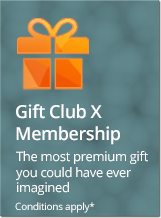 Prime Movie Premieres @ Member's Private Theatre
Club X members get access to prime movie content on the 1st day 1st show basis. These movies can be screened any time from the date of release as per their convenience at their private theatres. It is truly one of its kind service in the world at the moment.

Store and Play, Single Click, Trick Play features
Premium movies are downloaded and stored on the HDD of Club X Media server installed at our members residence in a highly secured and encrypted format. Movies are always played from the Media server HDD. This eliminates the need for the expensive streaming bandwidth, Offers immersive Cinematic experience without any external interference like weather etc. Our customer friendly User Interface needs a single click to play your favourite movie after seeking your confirmation. Trick play features like Pause, Forward and Limited rewind put you in complete command.

3D Ready & Dolby Sound
Enjoy your premium movies in immersive Cinema Quality / 3D format, The Club X Media server handles it all with ease. Dolby Digital Sound compliments the sharp picture quality for that complete cinematic experience.

Satellite Delivery / Remote server Management
Premium movies are delivered into our Members Media server through a Two way high bandwidth VSAT. The return path is used to monitor our servers remotely and hence eliminating the need for continuous monitoring at the members end. Promt and proactive messages are send to our members in case of any minimalistic interventions needed thus maximising the uptime and offering a complete peace of mind.

Non Intrusive
Club X members demand very high levels of Privacy, We address this need through our Satellite based delivery system and hence eliminating the need for physical and intrusive deliveries. Club X offers a unique blend of Luxury with Privacy.

Access to Club X Catalogue
Apart from access to prime movies on 1st Day 1st shows basis Club X also brings access to our huge catalogue of over 4000+ titles. These can be made availible as per members demand. There is no looking around.