Club X Privileges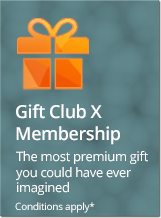 Ultra Exclusive Club:
Club X is an Ultra Exclusive Luxury Entertainment service. Membership to Club X is strictly against an Invitation or through an introduction by an existing member. All existing Club X members represent the cream of India's Uber HNI's. They come from diverse backgrounds ranging from Industrialists, Large Corporate CEO's, Prominent Sports & Film personalities and eminent politicians.

Premium Movies availability:
Club X members get access to Prime movie content on the 1st day 1st show basis from the date of Theatrical release within India. Club X has so far screened more than 800+ titles from the date of inception. This includes Hindi, English, Marathi, Tamil, Telegu, Malyalam and Bengali movies.

Screening Convenience:
Premium movies are downloaded and stored on our Media Server. Club X members can choose to screen the movie at any time of their convenience. Members are only charged for the movies they screen and not as per the ones downloaded on their servers. Club X is a perfect blend of endless variety and self-approved consumption.

Instant Play:
Entertainment is a very impulsive decision and Luxury services eliminate any time gap between our desire and availability. Club X members can play the prime movies instantly due to our store and play architecture. Prime movies are stored on the server hard drive enabling Instant play out at a single click.

White Glove Service:
Luxury has no restrictions whatsoever. Club X offers Dedicated Relationship managers assigned to each members on a 24 x 7 x 365 basis. They are just a phone call away for any prime movie screening requirement or any other assistance our members may need. Club X is always at your service.